With South-East Queensland's sub-tropical climate, there's such an enormous range of design possibilities. Living on the Gold Coast means that our homes are not far from the fantastic beaches, and our lifestyles are reflecting that relaxed pace. From houses that naturally flow with the environment, creating an oasis of peace and privacy, to the bold and expressive, or anywhere in between. Styles can also be reworked using new technologies, enhancing simplicity and purity within a space.
"Mostly, I like to take a brief and challenge it – helping clients achieve maximum advantages within their budget." – Will Collins
Profile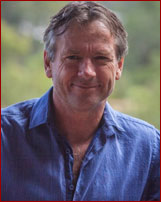 Will Collins lives at The Eco Village in Currumbin Valley, Gold Coast Queensland with his family.  He lives in a sustainable award winning home which utilises all the eco principles he suggests. His first ever house design 30 years ago was a mud brick pavilion style house … which he finds amusing as it is very similar in plan to his own home today.
Will has been a popular and much sought after building designer, with more than 30 sustainably designed homes so far within The Eco Village. This innovative development has been awarded the ' World's Best Environmental Development' in the 2008 International Real Estate Federations "Prix D Excellence" Awards in  Amsterdam. It has also won over 25 Australian Awards.  The Ecovillage has quite strict environmental guidelines in it's building codes, which has helped the village rise to such acclaimed heights in sustainable design across the world.  I must point out that I don't force sustainability on anyone and your house doesn't need to look like a forestry shack.  I love doing modern architecture styles using the latest materials and styles like off form concrete, exposed steel, lots of glass and clean lines. But all my homes are comfortable to live in because I always use sustainable architecture principles in my designs which inevitably makes your house sustainable – without you even knowing about it.
Will studied Architectural Drafting (as known then) at Gordon Technical College in Geelong. Finishing his studies in 1984, he then worked with many architect firms, gaining sound knowledge in construction and passive solar design.  During this time he traveled extensively overseas and within Australia, quenching his thirst for adventure and  extending his knowledge of other cultures and their unique building methods.  This led to the opening of his own practice in Currumbin in 1993. Since then he has completed a wide range of projects from sustainable homes, luxury individual homes, townhouse developments, three storey walk-ups, duplexes, additions and renovations.
He has been invited to sit on many judging panels to award individuals within interior design colleges and with the Building Designers Association of Queensland.  Will is a chartered member of the Building Designers Association of Qld. and was President of the Gold Coast Branch in 2002-2003 and previously in 2000-2001. He has been vice president now for approx. 7 years. Ongoing professional development is always a priority through seminars, workshops and conferences.
Being a donating member of The Wilderness Society and Greenpeace for over 15 years gives him another avenue for global and local action. You can also see him rolling up his sleeves to work at re-vegetation days and other local events.